The most common resource for automotive dents and dings used to be the body shop. Over the past 25 years a newer, faster, and easier way to repair dents has grown into an industry standard we know as PDR or Paintless Dent Repair. PDR is an art crafted by dent technicians with a sharp eye and steady hand. Dents on your automobile are removed from the inside out opposed to the older way of fillers, sanding, and repainting. In today's fast paced world, where automobiles have become a larger investment, we offer a solution no body shop can beat.
Reasons To Choose Paintless Dent Repair
Getting the same dent repair work done through an auto body shop, using traditional techniques would costs you upwards of 2 maybe 5 times as much in costs.
Not only are costs a factor but it can take a body shop days, even weeks, to complete the work - yes even small dent repair. PDR technicians can come to where your car is and remove the dents on the spot.
Consider paying $500 for a couple small door dings and waiting a week or call us for a free quote and a professional job done fast.
How to handle auto hail repair with insurance companies
In many cases this isn't a total loss at all. A great paintless dent removal technician can repair the dent damage like it never happened. Hail repair works just like windshield replacement does, with insurance companies. You call them up and explain your vehicle's circumstances, they send out an adjuster who files the claim and quotes you a price to repair the hail damage.
Even Hail Damage Can Be Fixed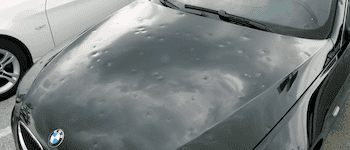 ---
---