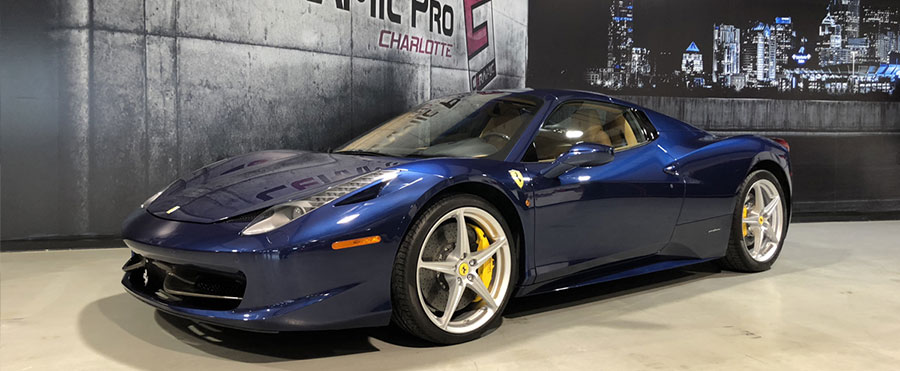 Our Ceramic Pro Sport package is an excellent value for those interested in Ceramic Pro paint protection! It comes with a 1-year warranty and is a huge upgrade from waxing at a similar price point. This package includes a thorough exterior wash before we add the ceramic coating. After our expert staff applies a layer of Ceramic Pro Sport to the exterior of your vehicle, your car will have a silky smooth glossy finish with hydrophobic properties so washing your car becomes a breeze. Adding Ceramic Pro paint protection to your vehicle's paint, you'll drive away knowing your paint is protected from dirt and debris. If you want your vehicle to maintain its value and be protected from the elements while looking great, then Ceramic Pro is your answer.
Paint Protection
Our Sport Package offers great exterior protection on your entire vehicle. Our Light coating will protect your car against:
Self-Cleaning properties for body and rims
Glass coating on exterior of the vehicle makes removal of tar, brake dust and build-up a breeze!
Hand Wash Vehicle
Decontaminate Paint Surface
Nano Polish (Primer)
1 layer of Ceramic Pro Sport on paint, plastic, wheels, and windows
Schedule Now

We specialize in Ceramic Pro application to keep your vehicle protected and looking great. Just one application of Ceramic Pro Sport will give your car's surfaces a super-slick hydrophobic effect. It also prevents water spotting from hard or rain water, adds UV resistance and leaves a high gloss finish. Inspired by nature's self-cleaning plants and flowers, water will roll right off the surface of your car, bringing with it dirt and grime for a self-cleaning effect. Come see us today to give your vehicle's paint and surface protection a huge upgrade to traditional wax and sealant at a similar price point!